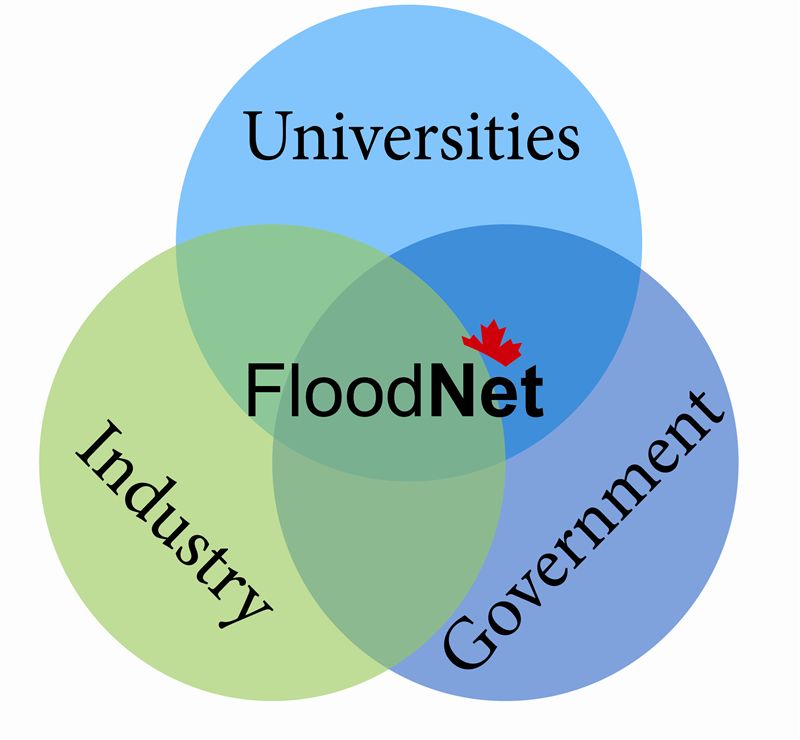 The FloodNet Annual General Meeting is an opportunity to bring together researchers, scientists, engineers, and water resource managers from all levels of government and the private sector to discuss the current progress of the NSERC Canadian FloodNet research program. Click on the links below to access the Scientific Program and Registration.
The 2017Annual Meeting was held on June 27-28 2017 at McGill Universities New Residence Hall in Montreal, Québec. The program abstract and presentations can be found below.
Note: Some presentations were made at the AGM but are not posted here because they are initial results or under consideration for publication.
---
Donald H. Burn
Shabnam Mostofi & Donald H. Burn
Zhe (Emma) Yang & Donald H. Burn
Fahim Ashkar

Donald H. Burn and Paul Whitfield
Ismaila Ba & Fahim Ashkar

Ismaila Ba & Fahim Ashkar
Babacar Dieng & Fahim Ashkar
Mounada Gbadamassi & Fahim Ashkar
Bakary Simpara & Fahim Ashkar
Hussein Wazneh, Altaf Arain & Paulin Coulibaly
Olivier Champagne, Altaf Arain & Paulin Coulibaly
Poulomi Ganguli & Paulin Coulibaly
Van-Thanh-Van Nguyen & Research Team
Truong-Huy Nguyen & Van-Thanh-Van Nguyen
Sarah El Outayek & Van-Thanh-Van Nguyen
Andrew Binns, Yiping Guo, Slobodan Simonovic, Zihao Zhang & Tommy Kokas
Donald H. Burn
Martin Durocher & Donald H. Burn
Ziyang Zhang, Donald H. Burn, Tricia A. Stadnyk & Peter F. Rasmussen
Bryan Tolson
Juliane Mai, Kurt C. Kornelsen, Bryan Tolson, Paulin Coulibaly, François Anctil, Vincent Fortin, Michael Leahy & Brent Hall
François Anctil
Jing Xu & François Anctil
Antoine Thiboult & François Anctil
Mohamed Amine Bessar, François Anctil & P. Matte
Amaury Tilmant, Hajar Ashouri, François Anctil & Bryan Tolson
Trish Stadnyk & Paulin Coulibaly
Ammer Muhammad, Paulin Coulibaly & Trish Stadnyk
Aaron Berg, Tracy Rowlandson, Elene Ueckermann, Elizabeth Wrona, William Woodley, Manoj Nambiar, Matthew Williamson, Erica Tetlock
Elene Ueckermann, Aaron Berg & Catherine Champagne
Hester Scheepers & Thian Yew Gan
Wei Song & Weihua Zhuang
Weihua Zhuang & Qiang Ye

Jianguo Xie, Wei Song & Xi Tao
Yiming Zhao & Wei Song
Paulin Coulibaly
Shasha Han, Daniela Biondi & Paulin Coulibaly
Frezer S. Awol & Paulin Coulibaly
Dayal Wijayarathne & Paulin Coulibaly
Zahra Zahmatkesh, James Leach, Paulin Coulibaly & Trish Stadnyk
Jetal Agnihotri, Tara Razavi, Paulin Coulibaly & Dominique Tapsoba
Pedram Darbandari, Tara Razavi & Paulin Coulibaly
Tara Razavi & Paulin Coulibaly
Kurt C. Kornelsen & Paulin Coulibaly
James Leach, Kurt C. Kornelsen & Paulin Coulibaly
Marguerite Xenopoulos, Elena Bennett, Sarah D'Amario, Ceara Talbot, Christina Fasching, Jim Rusak, Henry Wilson, Nicole Armstrong, Aisha Chaindet, Michael Paterson & Robert Metcalfe
Marguerite A. Xenopoulos & Sarah C. D'Amario
Ceara J. Talbot, Michael J. Paterson & Marguerite Xenopoulos
Christina Fasching, Henry F. Wilson, Sarah D'Amario & Marguerite Xenopoulos
Kamrul Hossain & Amin Elshorbagy
Jun Wang & Yiping Guo
Niko Yiannakoulias, Amin Elshorbagy, Darren Scott and Marguerite Xenopoulos
Nosheen Alamgir & Darren M. Scott